Stem cell based treatments are quickly becoming the mainstream trend for those looking for a non-surgical approach to aesthetic improvements. From the no-surgery stem cell facelift, Exilis,PRP therapy to cell-assisted liposuction or "CAL". A lot of women are coming to Bangkok for a mum makeover or Pre-Bridal Wedding makeover to get the body they have always wanted for a price they can afford. With our Cell Based treatments, There is virtually ZERO downtime and the results we deliver in our Private Closed System Lab in Bangkok are are very impressive. Stem cell breast enlargements are now the preferred method of breast enhancement over using artificial breast implants for most women nowadays. Aside from being much safer, CAL and Mini-CAL help provide instant satisfaction for our clients looking for a natural approach to firm, beautiful breasts.
Video | Cell Assisted Breast Enhancement
5 Types of Chest Augmentations We Offer:
Standard Fat Lipotransfer – Only fat transfer no Stem cell Enrichment or Expansion. (Europe,USA and Australia)
Breast Implants– Artificial Silicone or Saline Based. Must Be Eventually Replaced or Removed (Everywhere)
Stem Cell Enriched Autologous Fat Transfer or "Mini-CAL" in Exclusive Closed System Stem Cell LAB ( Bangkok, Thailand)
Stem cell-Concentrated Autologous Fat Transfer or "Full-CAL" (Bangkok, Thailand) – Can be Used by Men Also
Revision Breast Surgery or to Remove/Corrective Implants from Previous Boob Jobs.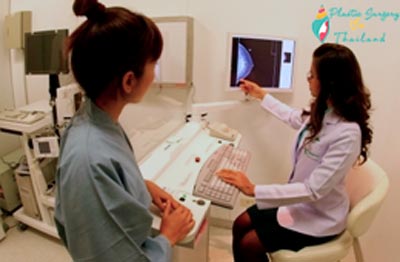 Autologous Fat Transfers
All of the cell based breast augmentations require autologous fat. Autologous means that the fat are tissues are obtained from the patients own body through careful liposuction. Autologous fat is the only type of fat that we utilize because the chance for rejection are virtually zero. We do not offer stem cell breast enlargements in Thailand where fat is donated from another person such as family member. We only offer autologous CAL.  This safe procedure is usually done under local anesthesia and on an outpatient setting, thus reducing costs the costs of the CAL procedure in Bangkok. The total treatment time is about 2-4 hours for Mini-CAL and patients can usually go back to their hotels on the same day after treatment. Our CAL Treatment protocol does require a minimum of 5-7 nights in Bangkok to allow for proper followups and after care.
PLEASE NOTE. Stem Cell based Treatments for Facelifts and Breast Augmentations Require Fat From Only Abdomen or Thigh Area. Women or Men with low BMI/Body Fat May Not Qualify for Treatment. If you are unsure and would like Pre-Approved status, please contact us BEFORE you arrive to Thailand
Steps in CAL Stem Cell Breast Procedure in Thailand
Step 1 – Assisted Liposuction. At the start of procedure, our stem cell doctors will carefully harvest your adipose fat cells from one of 2 areas only. The abdomen or the thigh areas. We cannot use any other areas due to the lack of viable stem cells.
Step 2- Cell Extraction. After enough fat cells are gathered, the CD34+ and Progenitor cells will be separated from the fat. In standard lipotransfer augmentation procedure, the stem cells in the autologous fat are not separated or cultured additionally. Many countries such as the US,Australia,UK etc are currently not allowed to expand/grow stem cells. They can only extract and must re-inject the fat without culturing.  It is scientifically proven that stem-cell enriched and expanded autologous adipose fat yields the best results since the autologous fat had the additional step of culturing/enriching the CD34+ Mesenchymal stem cells before re-injection.