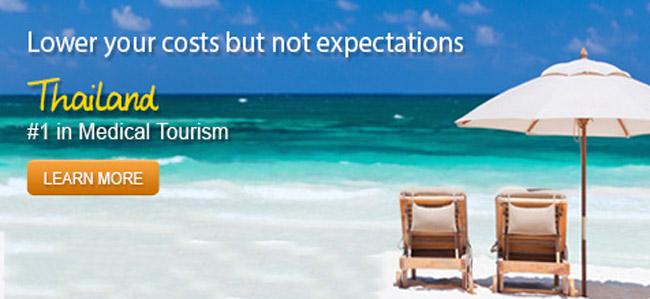 The Cosmetic Surgery Center of Thailand helps provide local and international patients with the most skilled plastic surgeons in Thailand. Our primary goals are very simple: To Better enhance your inner and outer beauty by utilizing only the most minimally-invasive, painless and affordable techniques available anywhere in the world. We strive to ensure every step of your medical holiday is managed with no extra efforts on your part. We promise to make your medical holiday to Bangkok a truly life-changing and positive experience. We understand that traveling abroad can be daunting at times. From the moment you land till the moment you leave we will be there for you. Our service offers fixed prices with satisfaction guaranteed!
International Appeal with Local Strength
Our Plastic Surgery Vacations continue to set the gold standard for medical related services in the Kingdom of Thailand. According to a recent survey by an international medical marketing agency, Thailand is the second leading destination for patients seeking high quality and affordable cosmetic surgery treatments. We offer over 75 medical specialists that are considered top shelf. Our unique approach focuses on matching your unique needs with a doctor who can deliver the results to ensure that all our clients are given the best pre and post-operative aftercare available in the country.
We can helps jump start your health by providing detailed and transparent access to your healthcare records through our secure online medical forms platform. You will always be 'in the know' at each and every stage of your medical holiday.
Video about Taking Medical Holidays to Thailand
Patient Safety first!
The Plastic Surgery Center offers you the most highly-trained,experienced english speaking doctors in Thailand. Our state-of-the-art in and outpatient medical center and Cosmetic Dental Hospital in Bangkok are all licensed and fully-accredited and always uphold the highest medical standards of care found anywhere in the world.  Over 750,000 people visited Thailand just last year for the sole purpose of medical treatments,health and wellness retreats,dental, and Infertility treatments. Contact us today to find out what.
Map to Our Location
[wpseo_map id="undefined" width="600″ height="400″ zoom="-1″ show_route="1″]
Hours of Operation
[wpseo_address id="undefined" show_country="1″ show_phone="1″ show_fax="1″ show_email="1″ show_opening_hours="1″]
Change begins with you!
To get started please reach out to us via email,phone or skype. We will be happy to speak with you and answer any questions you have and even arrange a complimentary consultation. Remember, The Cosmetic Surgery Center of Thailand is on your side!