Breast augmentation surgery is arguably the most popular cosmetic surgery in 2014. Having to choose the best type of implant can often lead to confusion and frustration but we are here to help. The Plastic surgery center of Thailand is a trusted provider of GENUINE Imported silicone, saline and "Gummy Bear" breast implants in Bangkok or Phuket.
Affordable Breast Implants in Bangkok | Video
Saline vs Silicone Implants
Saline implants are basically considered medical prostheses and are used for Breast enlargement Thailand, breast lifts and breast reconstruction surgery. The most common use saline and silicone breast implants is to increase the size and shape of the chest, breast implants are also used to correct congenital breast deformities such as post-breast cancer,tubular shaped breast correction,Poland's Syndrome,breast asymmetry,sagging breasts or breast ptosis. Implants are also often used in Mommy Makeovers and Pre-Wedding Cosmetic Makeover surgeries. Alternatives to artificial Breast Implants include the natural stem cell breast transplants better known as "CAL" Cell Assisted Lipotransfer.
Types of Breast Implants in Thailand
We currently offer 4 Main Types of Breast Implants in Bangkok and Phuket
Silicone Breast Implants
Saline Breast Implants
Polyurethane foam silicone gel Implants better knows as the "Furry Brazilian Silimed Implants"
"Gummy Bear" Anatomically shaped Implants
Our saline and silicone breast implants are all 100% genuine and imported from either Allergan or Mentor Corporation.  The Polyurethane foam silicone implants aka "Furry Brazilian" Implants are made in Brazil by the Silimed company in Brazil.
Incision Options in Bangkok and Phuket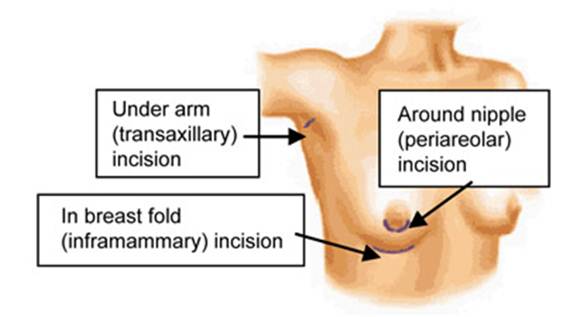 Round Vs  Teardrop Shaped Implants
Breast Implant Size Options
We offer hundreds of size,shape,material combinations ranging from 120cc to 850cc (pre-ordered upon special requests). For stem cell breast enlargement and Full-CAL the maximum size increase is limited to 2 cups. To give you an idea of volume vs cup size, 120cc implants are considered a size A, while 850cc implants would the cup size DD.
Size and shapes are often left your personal preference but our Thai Breast implants specialists determine appropriate size suggestions based on your existing breast tissue. When the size of implants increase the width also increases but is usually not accounted for during your early visual projections post surgery. Wider breast implants can create a very pronounced cleavage, but please keep in mind there are always limits on having proper visual balance and on how big a breast implant can be while allowing proper fit inside your chest.
Do Breast Implants in Thailand come with a Warranty?
ABSOLUTELY! We understands your desire to get the highest quality of the best price so we only work with the best breast augmentation doctors in Bangkok and Phuket who stand behind their respective work. Our pre-qualified cosmetic surgeons only use authentic and original implants that come with all manufacturer's warranty ranging from the standard 5 year to an industry leading 10 year warranty for some types of Breast implants.
 Breast Implants Before and After Pictures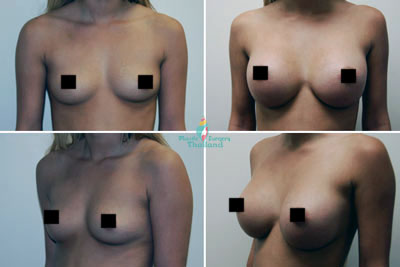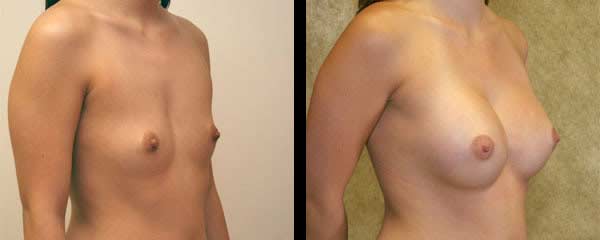 Breast Lift with Implants
Implant Prices In Bangkok
Prices for Breast implants will depend on the size,shape and quality of implants you choose/prefer. To give you an idea, prices for regular silicone breast implant augmentation in Bangkok starts at only $2250 Dollars or about €1725 euros. The price includes all medical expenses including genuine silicone or saline breast implants. The prices for breast implants in Phuket are generally 25% higher than in Bangkok.  Prices for anatomically correct "Tear-Drop" shaped implants and "Gummy-Bear" implants start at about $3150 Dollars or about €2411 Euros.  The estimated costs for Gummy-Bear and Tear-Drop breast implants also include all medical related expenses including Implants,facility fees, anesthesiologist's fees and doctors fees and includes the manufacturer warranties. The Aesthetic Surgery Center of Thailand also offers complete Breast Implants Surgery in Thailand packages that include all medical and non-medical related costs such as hotel (Breakfast/Wifi) and airport transportation (companion included for free). To learn more current breast augmentation promotions and discounts please contact us today.
"The Journey of a Thousand Miles Starts with a Single Step"