Ear Surgery in Bangkok also called Otoplasty or Pinnaplasty and is one of the best plastic surgery  procedures people looking to fix malformed ears. Most medical holiday makers coming to Bangkok or Phuket are between the ages of 17 and 35 years old. They have often lived with slightly unappealing ears and are just looking for a simple and cost-effective cure for protruding ears. Otoplasty and Pinnaplasty can be done in just 1 day with not overnight stay required. Men and Womens ear's protrude because of many reasons such as "lop ears" , excessive ear cartilage, deformed ear lobes and shell or cupped ears that lack the natural creases that give the ear its features. We work with the top otoplasty surgeons in Phuket and Bangkok that use advanced surgical techniques to fix or even recreate artificial ears if needed.  Birth defects ,body modifications (gauging) and traumatic injuries can all be the cause for ear augmentation or reconstruction surgery. Plastic surgery vacations can provide instant relief in the privacy of Bangkok or Phuket to fix your protruding ears in a very short cosmetic vacation and for a price you can afford
Otoplasty Surgery Bangkok – Malformed Ears
Malformed ears is a very broad term to describe cosmetic conditions such as cupped or shelled ears, or even to describe ears that may not have properly developed due to birth defect or genetic conditions. To better understand your needs, our otoplasty surgeons need to know about any pre-existing needs such as mal-positioned cartilage,excessive cartilage,soft-tissue deformities or any malformed cartilage.
Ear Surgery Overview- Pinnaplasty Procedure
Most ear surgeries in Bangkok and Phuket are performed under local or general anesthesia and as an outpatient in one of the best hospitals in Thailand or at an internationally accredited private clinic.  Overnight stay may be required if you decide to combining ear surgery with other treatments such as Nose Reduction surgery,mini- Tuck surgery,BodyTite Liposuction,Vaser HiDef,eyelid surgery,breast implants, dental treatments and/or Hair regeneration treatments for a full body makeover. Normal surgery time for Pinnaplasty and Otoplasty in Bangkok is about one hour (30 minutes each side).
The 2 primary techniques for ear surgery and otoplasty in Bangkok are:
Once your Thai plastic surgeon determines the location or the incisions they will begin to carefully shape and sculpt the exposed part of your ear's cartilage to try to "Pin" or re-position it closer to your head allowing for a natural-looking face. The otoplasty specialists may also make use of non-removable stitches to help the cartilage retain its new position. The doctors in Bangkok or Phuket may also remove any excessive cartilage to better enhance the look of your new ears.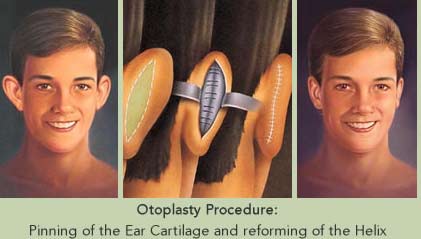 Another common type of  Ear surgery offered in Thailand works by actually removing skin around the  cartilage then folding it back. No cartilage is actually removed, but the doctors may use non-removable stitches to help the cartilage maintain its new position. Our doctors may also make use of soluble stitches that dissolve naturally in as little as 5 to 6 nights..
Ear Surgery in Bangkok Video – Affordable Otoplasty
For for severe cases that require ear reconstruction surgery  such as absence of any ears (congenital microtia) the most common technique used in Thailand works by developing the framework of the outer ears using the clients own rib grafts, then elevating the back portion of the ears, then placing the new rib grafts on top to help coverup the new framework. The patients ear canals are carved and even ear lobes will get rotated to give the most natural look possible. Malformed Ears due to very serious trauma like fire burns may need to undergo reconstructive ear surgery in stages to help create natural looking ears.
Pinnaplasty & Otoplasty Ear Surgery Before and After Pictures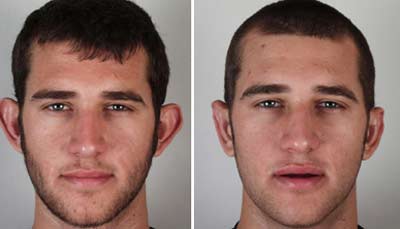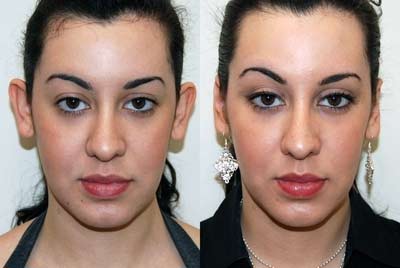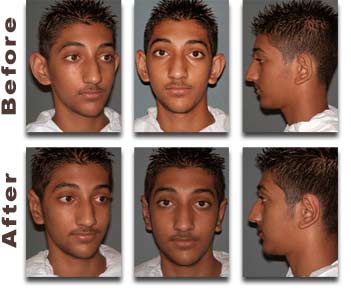 Otoplasty Ear Correction Surgery Prices & Promotions
Plastic Surgery vacations to Thailand is pleased to offer our clients the most modern yet affordable ear surgery solutions such as Otoplasty and pinnaplasty ear surgery. The actual prices for ear correction surgery will really range depending on the techniques used and your existing conditions. To give you an idea of the estimated costs for otoplasty starts at only $650 Dollars or about €448 Euros Per Ear. A final fixed price will be provided once our ear specialists can review your existing medical condition and review the pictures of your ears. We also provide all-inclusive otoplasty vacations to Thailand that  include all the medical related costs,hospital fees,followups appointments, recovery hotels and round-trip airport transportation for a truly Hassle-Free medical vacation to Thailand.
Our ear surgeons normally recommend a 5-7 night trip to Thailand to allow for proper after-care and healing during a short trip. To learn more about ear correction surgeries in Bangkok or Phuket or to get started please contact us today.
"The Journey of a Thousand Miles Starts with a Single Step"