Thinking of going on a vacation, but wondering exactly where to go? Wonder no more! Why not go to the world's number one tourist destination? According to MasterCard's Global Destination Cities Index, the colorful capital city of Thailand, Bangkok, is the world's top travel hotspot. Bangkok has had the highest number of foreign visitors this year than any other cities in the World. It beat out other big cities around the world like Paris, Singapore, London and New York, all of which are in the top five. It is predicted that visits to Bangkok will rise by 9.8 percent this year alone.

This year is the first time that an Asian city topped the charts. Out of 132 cities that were ranked this year, 42 cities are from Asian countries. Other notable Asian cities in Asia were Singapore which ranked 4th, Kuala Lumpur 8th, Hong Kong 9th, Seoul 11th, Shanghai 14th, Tokyo 16th and Taipei on the 18th spot.
Goodbye London. Why Bangkok?
Besides being the cosmetic surgery destination of choice around the world, The Thai capital has always attracted tourists and expats because of its appealing multi-faceted sights, exciting night life and beautiful attractions. Though surely other cities have characteristics that make them as exciting, Bangkok continues to be one of the cheapest places to visit. Bangkok's airport serves as a connecting point for numerous foreign carriers, making it one of the busiest airports in the world today. There is a total of 96 airlines that makes use of Bkk Suvarnabhumi airport.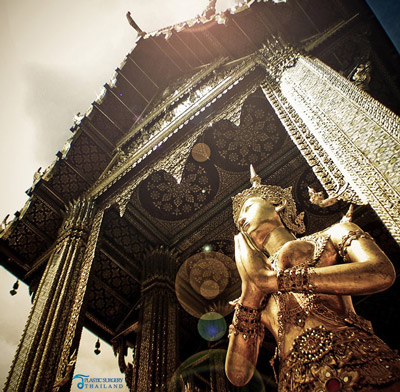 What to do in Bangkok?
There are so many things to do in Bangkok and most of them won't break your bank. If you are on a tight budget, then heading over to Thailand is the best decision you'll make. All of the tourist spots in the city are relatively cheap, with the exception of the Temple of the Emerald Buddha, but paying a few hundred baht to get to the most treasured temple and learn about their history is worth it. The impressive and distinct architecture won't be found anywhere.
Local food is extremely affordable, getting a meal for on the street will cost no more than 50 baht and that includes drinks. Street food is the best and most authentic meal you'll get in Bangkok. The food will be cooked in front of you so that in itself can be considered a short Thai cooking lessons.  If you are coming to Bangkok for a short stay (2-4 days) a good guide like the top ten things to do in Bangkok is a must.
#1 City on Earth in 2013 – Bangkok Video
Shopping in Bangkok is also a must do. Check out our silk, exotic crafts made from indigenous materials, antique furniture, clothes, bags and so much more. All items are reasonably priced and if you go to big street markets, you can practice your bargaining skills. A lot of big name brands are also available here, spread among huge glittering shopping malls like MBK and Siam Center.
Bangkok is a beautiful and exotic city, unlike any other. The traditional and local blend right in with the modern. There is a certain magic one you get in the middle of it all. Amazing healthcare, Tall modern skyscrapers, beautiful temples, the scent of incense mixed with grilled street food, all of it so overwhelming, so colorful, so unique, so intoxicating, so beautiful, so Thailand. To learn more about medical related services and other wellness opportunities in Bangkok please contact us today.