Chin augmentation surgery in Thailand is also known as Chin Implants Surgery or Mentoplasty.  Chin correction is actually a very common cosmetic surgery procedure for both women and Men visiting Thailand for medical treatments. Chin Augmentations can drastically improve the balance of your face and help correct any receding or"weak" looking chins caused naturally,through trauma or by age related bone resorption and congenital deficiencies. A weak profile and short chin can also make your nose appear larger than it is and also make the neck appear fatter or undefined. Chin augmentations can be done in a few ways including silicone implants. A  chin implant surgery is also called mentoplasty and results in your profile ending up with with much greater chin projection shape and becoming more prominent .
The silicone chin implants come in a variety of sizes and shapes depending on your needs and profile. Chin Implants are used to instantly strengthen the chin or make it wider to bring symmetry back into your face. The silicone chin implants are all genuine US made from Allergan and Mentor and are are generally placed over the bone in the lower jaw to increase the facial dimensions and produce the desired results and look.
Mentoplasty & Sliding Genioplasty Surgery in Bangkok
For chin implants, your Thai plastic surgeon will make a small incision underneath your chin. The silicone chin implants are then inserted and secured permanently in its new place. The surgery is now complete and incision points are then closed with medical sutures.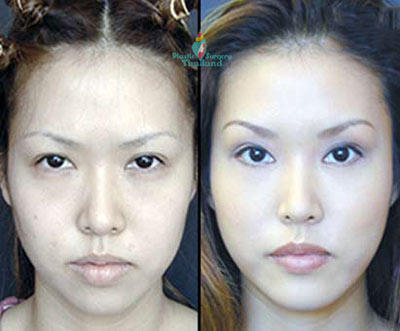 An alternative to mentoplasty is called "sliding genioplasty surgery" or "a chin advancement surgery" This surgical augmentation of the chin is much more involved than silicone implants and is usually reserved for moderate to severe cases. Sliding genioplasty surgery is done by cutting into the chin bone at an angle then rotating it slightly to make your chin appear larger and straighter. A Sliding genioplasty doesn't require any artificial chin implants and can also make the chin appear shorter or longer depending on what's desired.
Chin implants surgery is popular with both men and women, but may not be appropriate unless you meet certain conditions.For mentoplasty surgery to work, you teeth and jaws must be functioning normally in as little as 4-7 nights in Bangkok or Phuket.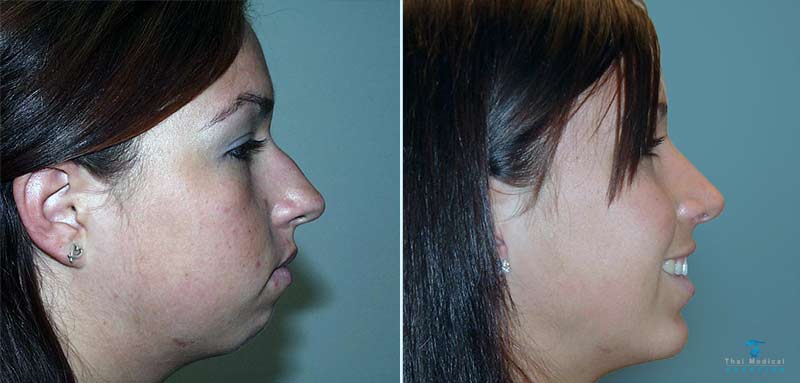 Mentoplasty may be performed alone but is often combined with other treatments such as Pre-wedding makeovers,mommy makeovers, Rhinoplasty Surgery, surgical face lifts, Brow Lifts,Lip Lifts, stem cell facelifts, and/or Liposuction using VASER Lipo,BodyTite or