Lip Augmentations in Bangkok also known as Lip lifts,Lip Injections or Lip Enhancements in Bangkok and Phuket Thailand can help turn back the clock and counteract the nasty effects of aging on your lips or otherwise naturally thin lips. As we get older, our skin tends to becomes loose and a little lax, especially the thin areas between your nose and upper lips. When this loosing occurs, our upper lips become even thinner and often begin to show the pink areas called "vermillion". This extra thin skin area can also sometimes cover our teeth not allowing us the  smiles we are used to.
Lip Augmentation in Thailand Video
Lip Injections in Bangkok
Lip lift surgery and Lip Augmentation surgery in Thailand seek to remove some of this undesired excess skin and then reshape the smile by pulling the lips to a much higher position allowing greater exposure of the pink vermillion area. Lip Augmentations and Lip Lifts in Thailand are often combined with other cosmetic surgery procedures like such as Botox in Thailand or other injectable fillers such as Juvederm in Thailand or Restylane in Thailand.  Lip lifts in Thailand and Lip Augmentations in Bangkok can easily help restore your long-lost pucker on your aging lips or simply just enhance your naturally thin lips with the top plastic surgeons in Thailand. The doctors can also use Injections of natural fat or cell assisted lipotransfer taken via liposuction in Thailand,Vaser  or SMART Lipo from other areas of your body and transfer the fat to your lips to be used in the lip augmentation or Lip Lift in Thailand procedure
Lip Lift Surgery in Thailand
Male Lip lifts and Lip Augmentations are both performed on an outpatient basis using mild local anesthesia. Lip Lifts and Lip Augmentations in Bangkok both take between one and two hours to perform depending on the amount of work desired and the total extent of the surgery.
There are several types off female or male lip lift surgeries. The correct method for your specific needs can only be determined after one of our accredited and certified plastic surgeons in Bangkok,Phuket or Pattaya who can review your pictures and your medical history. Your surgeon will take into account your desired aesthetic goals, examine the anatomy of your lips and make some recommendations.
The basically two main types of lip lift surgeries and Lip Augmentation surgeries in Thailand. The are known as the "gull wing lip lift" or the "bulls horn lip lift"
Lip Augmentation in Bangkok
With the bull's horn lip lift Thailand, the surgeon first creates a small incision just under your nose. The incision is tiny and therefore the resulting scars will be virtually invisible using the bull's horn lip augmentation Thailand surgery. The Incision points  and subsequent risks of any scarring will generally vary depending on your anatomical features and skin type. The plastic surgeon then removes a small strip of skin known as a Cupid's bow that mimics the curve of your upper lips and then he raises your upper lip to the new position before finally closing the tiny incision points.
Lip Lifts in Thailand
The gull-wing lip lifts in Thailand is similar but in this type of lip augmentations in Thailand surgery the surgeon removes a strip of skin above the border of your upper lip that is "M-shaped". The strip is very near where the vermillion meets your facial skin. The gull-wing lip augmentation surgery is not quite as popular as the bull's horn lip lifts in Bangkok because the gull-wing female & male lip lifts can increase the risk of having telltale scars of plastic surgery.
Lip Augmentation in Bangkok Before and After Pictures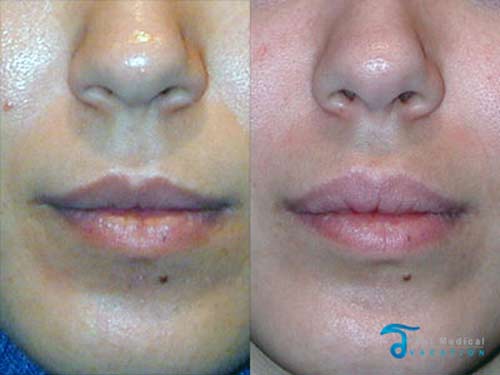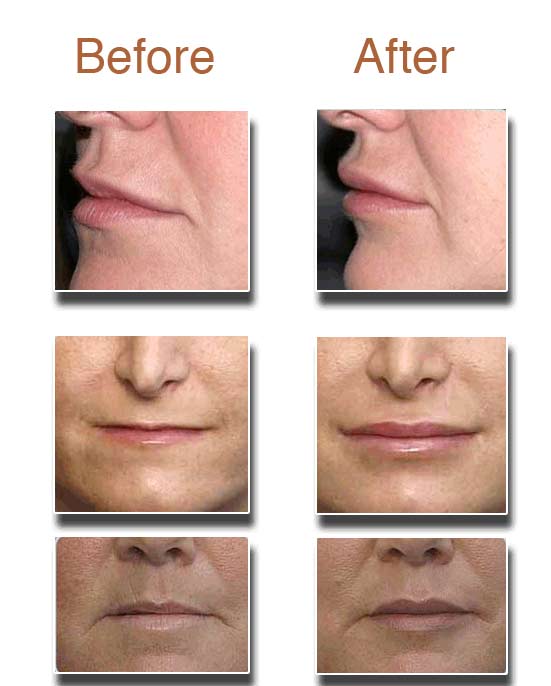 Lip Lifts Recovery Time
Most people will experience slight swelling for the first few days after your lip lift Thailand surgery and male lip lift surgery. Any discomforts can be alleviated with the prescription painkillers that the doctor will prescribe after your Lip augmentation Thailand surgery. The stitches are typically removed within 6-7 days after your lip augmentation surgery Thailand.
 Lip Augmentation Prices
Each person is different and has different needs, but generally speaking a typical lip lift or lip augmentation in Thailand start at about $400 Dollars or about €320 Euros and up depending on the type of lip augmentation and the amount of work needed for the procedure. The price includes everything medically related to your lip augmentation surgery in Thailand but does not include any hotels or airfare costs.PST also offer all-inclusive promotional packages for all our medical tours and cosmetic tours to Thailand that include every thing you need for your 5-7 day lip lift vacation to Thailand . Contact us for more details or for a custom quote to save an additional 15-25% with our package deals and also when combined with other plastic surgery Thailand procedures such as face lifts,nose surgery,hair transplants, brow lifts, or asian eyelid surgeries.
"The Journey of a Thousand Miles Starts with a Single Step"