As we get older, the quality of our skin is affected. Over time, the elasticity and tightness we love slowly diminishes. Your youthful and glowing skin will start to appear dull. In certain areas of the face, we start noticing higher than normal fine lines, wrinkles and other impurities brought about by the aging process. This issue affects both for men and women, and is something we all have to witness every morning when we look at ourselves in the mirror. Thanks to modern technology and top notch skin doctors in Thailand, dealing with this is issue is no longer a problem. There are now very simple and non-surgical ways for you to look 10 years younger and bring back your skins' vitality and elasticity though the safe and effective liquid facelifts.
Facts About Liquid Face Lifts
Face lift surgery has become one of the most popular cosmetic surgeries in Thailand for men and women who want to look younger and to lift and tighten their face. Surgical facelifts are very effective however they cannot be repeated often and require longer downtime than compared to the non-surgical liquid face lift procedure. If you are not ready to have a full blown surgical facelift, we strongly recommended that you try the liquid face lift in Bangkok. This is not your ordinary face lift procedure and can be done multiple times without any downside and/or downtime. The only drawback to liquid facelifts is that they are temporary and not permanent.
Liquid Facelift Video
To bring back that youthful glow in a short holiday vacation, our doctors have refined the Liquid Face Lift. This unique treatment makes use of quality dermal fillers in targeted areas to lift and enhance the elasticity. Our board certified cosmetic surgeons prefer using dermal fillers such as Radiesse, Juvederm Ultra Plus, Juvederm Ultra, Sculptra Aesthetic and Restylane. Botox or Dysport are also used in the process depending on what is needed for you particular skin type.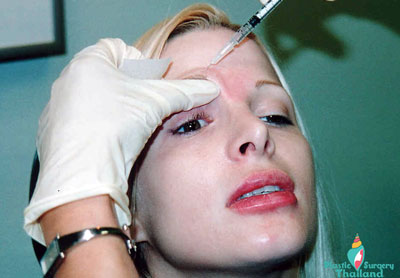 Like other non-surgical skin treatments such as the Stem cell facelift,Ulthera and Thermage, the Liquid Face Lift procedure does not require you to undergo any surgery. As such, this is the most viable option for those who want to get rid of their sagging skin and unpleasant facial features during their short holidays in Thailand.