Mothers devote so much of their time and resources to their children that often times, they forget to take care of themselves. Updated Sep 1,2016 Alot of people assume new mothers 'let themselves go' but oftentimes that just isn't the case. Not every woman can get their old body back after giving birth to children. Age and sometimes gravity will just not allow the firmness to return no matter how much you eat right and exercise. Thankfully, being a mommy doesn't have to end in you hiding under baggy clothing just to hide your post-baby body. There is a simple solution called mommy makeover in Thailand.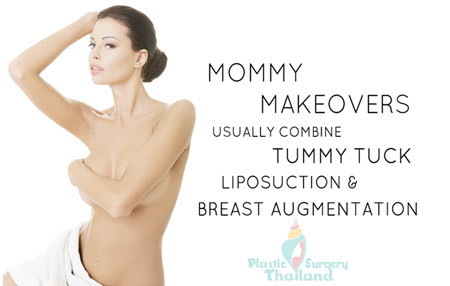 Is a Mommy Makeover Right For Me?
Not every woman has the time to exercise religiously to get their pre-baby bod back. Not all women have the luxury of sleeping 8-10 hours at night. If your are looking for a quick and inexpensive way to get your old body back the only option that plastic surgeons from over the world recommend. The mommy makeover.
Stunning Results for New Mumms
A Mommy makeover is a basically a marketing term used by businesses for women who are having a hard time getting their old shape back due to pregnancy. It involves one or more plastic surgery procedures. The most familiar mum makeover treatments are tummy tucks, breast lift and liposuction. Mothers should be rewarded for their hard work and the love they give their children, going under the knife is an unconventional present to give to yourself, but it's something that mothers should seriously consider.
Combination of Procedures For Mommy Makeovers:
Liposuction:
Liposuction is one of the most popular plastic surgeries and is a broad term used to describe a procedure that removes destroyed fat from a certain body part by suction. Tiny tubes are inserted under the skin then the unwanted fat is suctioned out. A local anesthesia will be used to numb the part of the body where tube will be placed. The main reason for liposuction is to contour the body. It is not a weight loss treatment but it is a good way to remove stubborn fat that won't go away even after exercise or diet. Minimally invasive liposuction such as Vaser ,Bodytite and SMART Lipo whole can take as little as 1 hour. Non-Surgical liposuction such as Coolsculpting is also an option, however the non-surgical treatments are gradual. The results won't be evident immediately, usually only after the three month mark. Liposuction is also very popular in our pre-wedding makeovers and in our Brazilian butt lift using assisted fat lipotransfer.

Tummy tucks
A tummy tuck is done to get rid of the loose skin in the abdominal area. After a woman gives birth, the skin becomes loose and flaccid; tummy tucks in Thailand will help tighten your muscles that have been weakened over your pregnancy. It will also improve the appearance of the stretchmarks below the navel that women tend to have when their skin expands. The surgery can take around two to five hours. The recovery time can take one to three weeks depending on how severe the procedure is. The results are amazing though because a person gets a flatter stomach and a decrease in pants size.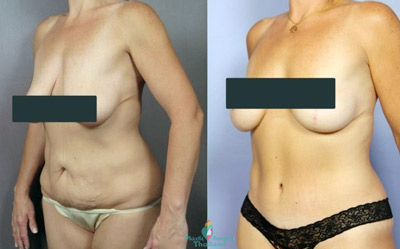 Breast Lift Surgery
Perky breasts normally disappear as soon as a woman gives birth. Women's breast shrink after breastfeeding. The tissue inside shrinks and the breast will look empty. To get youthful looking breast, women can undergo revision breast augmentation surgery in Bangkok or Phuket. This procedure is pretty straight forward, the excess skin that is drooping will be removed and the breast tissue gets lifted. Sometime breast augmentation using implants are also used to give your chest more volume or definition. The whole procedure can take as long as three hours. The scars from the surgery will fade after some months.
Mummy Makeover in Thailand
Before & After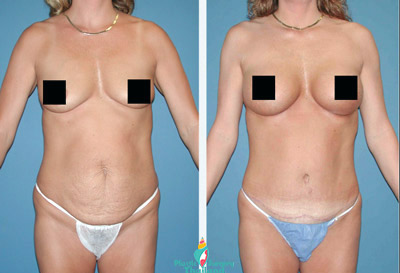 A complete mommy makeover is combination of cosmetic surgeries and  should not be taken lightly. You should do a lot of research prior to having it and should always consult with a licensed and professional cosmetic surgeon who understands your needs and can deliver the results you are looking for.
Mum Makeover Prices and Packages
To learn more about affordable mummy makeovers in Bangkok or Phuket, please feel free to contact us today.