time effective treatments for collagen building on the market today. Other non-surgical alternatives include the stem cell facelift, and coolsculpting. In order to get best results, our doctors will need to understand the condition of your skin to maximize the treatment output of Ulthera Ultrasound Therapy. Most of our clients need only 1 or 2 treatment sessions in their makeover holiday depending on his/her body and its response to regeneration of collagen. The treatment is also very popular when combined with the mommy makeover,facelift and breast augmentations ,liposuction, butt lifts and the newer stem cell breast enlargement called CAL
Is it Safe?
Since the treatment we offer makes use of ultrasound and thermal lasers, many clients want to know if it is safe and if it has no side effects. The answer is always a resounding Yes! Ulthera is a very safe procedure that both men and women can try without fear of any downtime or residual risks associated with surgical facelifts,eyelid surgeries, vaser liposuction and tummy tucks.

Ultherapy is also one of the few medical devices approved by the US FDA after a series of clinical tests, studies and thorough medical research. For over 50 years, ultrasound energy has long used for several purposes in the medical field. There is absolutely little harm in trying the modern Ultherapy treatment especially if you really want to look young again and do not want to go under the knife.
Of course, there are some minor side effects. After the treatment, you might experience swelling and redness. But these are just temporary. After a few hours, you will feel mush better. We also recommend staying out of the sun and avoiding any water sports for atleast a few days after your Ulthera treatment in Bangkok.
Before and After Genuine Ultherapy
The best part of Ulthera is that you can notice major differences right after your first treatment. Our skin treatment is targeted to produce more collagen. You can immediately feel that your skin is tighter and no longer sags and pretty soon you start to feel young again. The best part is that non one has to know what you did in your holidays in Thailand. Your family and friends will be amazed at how vibrant and young looking you became after your trip to Bangkok.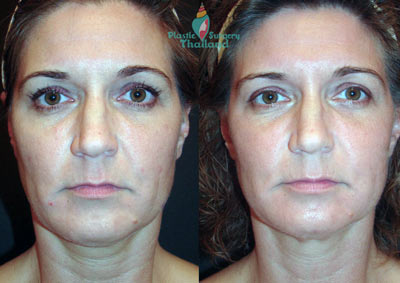 Prices for Genuine Ulthera In Bangkok
Plastic surgery in Thailand is proud to offer the best prices for Genuine Ulthera Ultrasound "Ultherapy" in Thailand. Actual prices will depend on the areas
you are interested in treating but to give you an idea of costs, Genuine Ultherapy for Lower Half of your face that creates the "V-shape"  starts at around $995 dollars only. The V-shape Ulthera concentrates on the lower face cheeks and chin and is very popular with both males and females.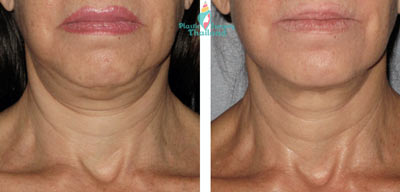 Please be Aware of Clinics offering Counterfeit Ultherapy. To achive the best results, Make sure you are working with only Certified doctors with Genuine Ulthera. If the prices are too good to be true, they probably are.
To get actual prices with multi-area discounts, please complete the online consultation request form and send us some clear pictures of the areas you would like treated. (Pictures From the front and side). Once our Ulthera certified doctors in Bangkok have reviewed your request we can offer you precise prices along with optional hotel and transportation package. Please note all our optional holiday packages include 1 guest (friend or family) at no additional charge.
To learn more about Genuine Ulthera in Bangkok Thailand, please contact us today.
[/fusion_builder_column][/fusion_builder_row][/fusion_builder_container]