issues (fat and damaged platysma muscle) simultaneously. A submental lift was designed to eliminate fat and repair platysma muscles in men resulting in a  tight and smooth looking jaw and neck line. Liposuction alone may still be effective in some men, but generally older men or men who recently experienced massive weight fluctuations may require a submental neck lift or a full lower facelift surgery.
Thailand Platysmaplasty Neck lift Surgery Overview
The tried and true surgical neck Lift  is called platysmaplasty or cervicoplasty surgery . The surgical neck lift is more intensive than the non-surgical options outlined before. Generally, a neck lift surgery in Bangkok or Phuket takes from 2 to 4 hours and is performed using general or twilight anesthesia. The actual time varies on the scope of the surgery and if it is being performed in conjunction with other plastic surgery procedures such as brow lifts, eyelid surgery, chin augmentations, tummy tucks or other treatments. To qualify for treatment you should be in fairly good mental and physical health and not have any restrictions on travel.
The treatment begins by one of our Thai surgeons making small incision beneath your chin. These small incisions allow the doctors direct access to the platysma muscle and fatty regions. The muscle is then tightened and fat removed via liposuction.  Once your platysma muscles have been tightened and fat removed, the skin is re-placed to its original location. Any excess skin or fat is removed permanently and the incisions are closed using medical grade dissolve-able sutures. Our surgeons may also sometimes place a small drainage point near the neck to help collect any extra fluids from the operation. The drains are a temporary precaution and removed during your followup examinations and before you are discharged from one of the private clinics or hospitals in Thailand. Our surgeons may recommend medical grade neck compression garments to help reduce swelling and retain the new shape. This compression garments need be worn for the first few days.
Neck Lift Surgery in Bangkok and Phuket Before and After Pictures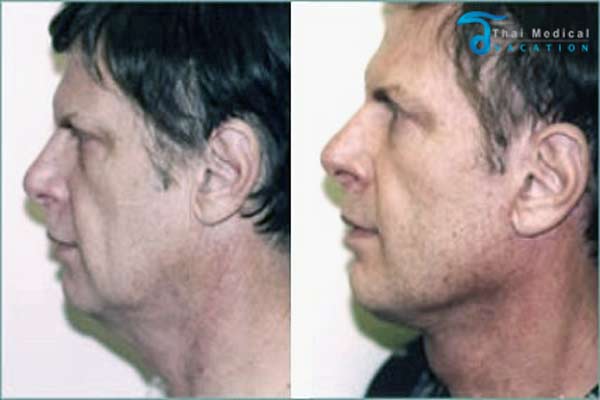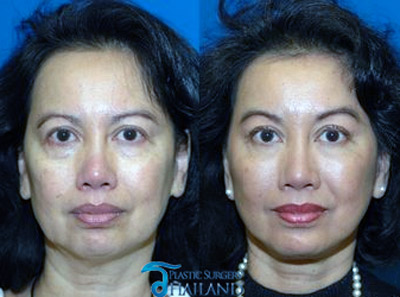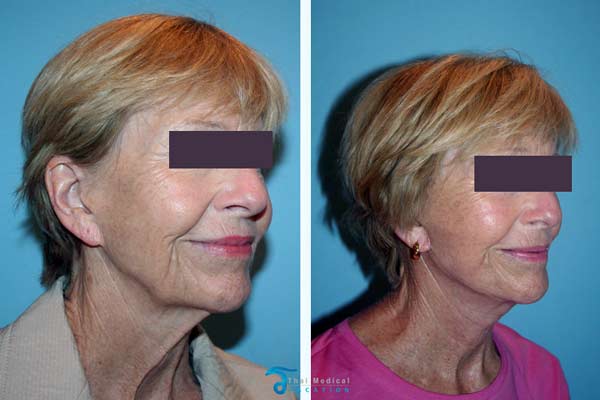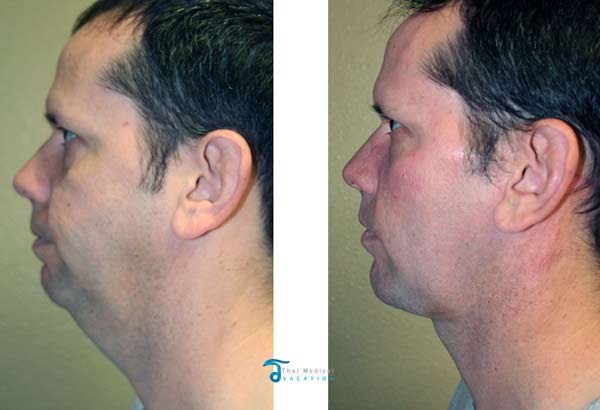 Neck Lift Surgery Vacation Length
The minimum time recommended for your Neck Lift surgery in Bangkok or Phuket Thailand is 5-7 nights. A Non-surgical Neck lift using Vaser, laser liposuction can be done in as little as 2-3 days. Botox neck lifts can be done in under 1 hour and do not require any special precautions.
Neck Lift Prices in Bangkok Thailand
The total cost having Neck lift surgery in Bangkok starts at only $1850 Dollars or about €1325 Euros, The prices for Neck Lift in Phuket are generally 20-35% higher depending on what type of Neck lift procedure you choose (surgical vs non-surgical). The final costs we provide will include any hospital stays,anesthesia fees,hospital fees,followup fees with no taxes. The costs we quoted do not include any additional hotel stays, airfare or airport transportation. To get more accurate prices and a more detailed price breakdown or to get all-inclusive package pricing that will include ALL your treatment,hotels, airport transportation costs while saving an additional 20-30% off the Neck Lifts surgery our doctors will need to see your pictures and brief medical history. To find out more or to get started please contact us today.
"The Journey of a Thousand Miles Starts with a Single Step"