without surgery. Older patients especially enjoy the ability to turn back the hands of time or reverse years of living an unhealthy life style. This safe and effective solution is also ideal for anyone even those that may not responded well to other cosmetic treatments such as Thermage or Ulthera. The biggest advantage of the Exilis equipment is its amazing safety record. Previous skin tightening and fat reduction devices worked similarly but were unable to penetrate the skin deep enough without harming the persons skin.
Exilis vs Thermage
Exilis on the other hand comes with the exclusive Dermal Temperature Control "DTC" and Energy Flow Control "EFC" options. The DTC system helps ensure the persons skin is at a safe temperature and allows our Thai Doctors to adjust the temperature accordingly to the reading. The EFC option allows for a much more consistent result by eliminating any unpredictable energy fluctuations of pulsed lights that have plagued similar skin tightening machines. Exilis also automatically pauses every 20-30 seconds to allow our medical team time to scan the skin temperature thereby minimizing any risk of discomfort or pain.
Before After Exilis Laser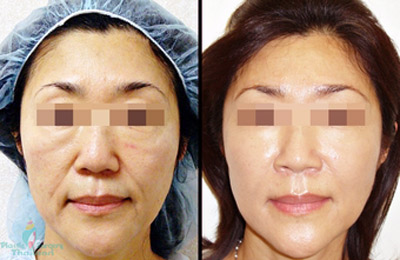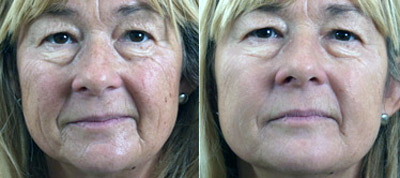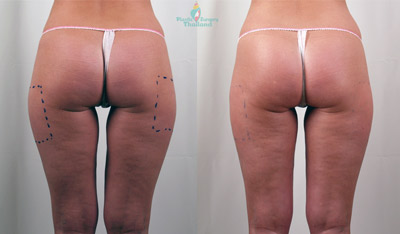 Exilis Prices in Bangkok
Genuine Exilis Elite is ONLY available in Bangkok and is not available in Phuket at this time. Prices for Exilis will depend on the total areas being treated.  Prices for Neck or Chin starts at low as $299 Dollars with big discounts given for multiple areas. This treatment is also great to combine with other minimally invasive procedures such as the stem cell facelift, CAL breast enlargement,Liquid Facelift and as part of Wedding or Mommy makeovers. If you are interested in scheduling Exilis in Bangkok to decrease fat pockets while tightening skin in your body or face please contact us today.
[/fusion_builder_column][/fusion_builder_row][/fusion_builder_container]