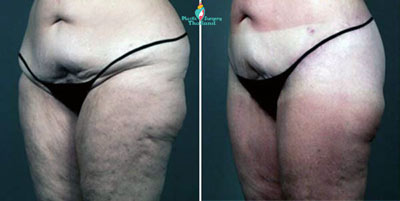 Realistic expectations with this surgery will definitely help increase your odds of a successful thigh lift so an honest and upfront discussion about what to expect during and after the procedure is crucial.
Recovery Time Needed
A thigh lift is usually performed on an outpatient basis ( depending on the type of surgery) and usually performed under general anesthesia. One or 2 night stay may be need if the surgery justifies it and will be included in the cost of your thigh surgery. The areas on your thighs are marked before your surgery, usually when you are in a standing position. The thigh lift procedure will normally only takes 1 or 2 hours what is needed. Deep sutures are then used to close any open incisions, these sutures will automatically dissolve within three or four months.You will be taken to a luxurious private room at an internationally accredited Thai hospital for rest and recovery for one or 2 days post-op.
PST recommends taking  7-10 day medical holiday at the Plastic Surgery Center of Thailand for to ensure proper rest and recovery time before you head home. During this recovery period, clients are  advised to remain in a reclining or standing position as much as possible, since sitting directly on your stressed thighs is not recommended during your recovery process. Some swelling and/or bruising may occur after the surgery, and could last up to a month. The majority of clients however recover fairly quickly after the surgery in Thailand. We also offer non-surgical leg/thigh lifts using Ulthera,Exilis or Thermage.
Thigh Lift in Bangkok Before and After Pictures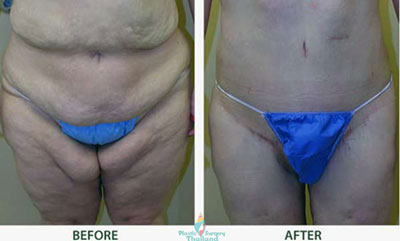 How Much Does Thigh Lift Surgery Cost in Bangkok or Phuket?
Thigh lift prices will vary based on the amount of surgery required and location required during your thigh lift procedure in Bangkok or Phuket. Generally, the prices for thigh lifts and Thighplasty in Bangkok start from around $2,300 Dollars or about €1920 Euros and include all medical related fees such as cost of the treatment,1 or 2 nights stay at the hospital, all lab fees, anesthesiologist fees, hospital stay fees, etc.) The exact cost and prices of the Thigh procedure can only be determined once the doctor can review your pictures and medical history to ensure you are qualified for having the surgery. This cost estimations do not however include any hotels after or before the treatment or airfare. We also offer complete all-inclusive treatment package and promotional offers that include all the hotel,transportation and treatment while saving you an additional 15-25% on your Thigh surgery in Thailand. Please contact us today for more details or a custom quote.
"The Journey of a Thousand Miles Starts with a Single Step"