consultation. If you do not live in Thailand, we can accomplish this first step through a virtual consultation. Our short medical history questionnaire and pictures can be submitted online.  Your total number of transplant sessions needed will primarily depend on the areas of your scalp. We can provide you with more accurate cost estimates with total sessions needed after the initial online consultation.
Depending on the total number of grafts needed our doctors will need to perform followup examination a few days after treatment. Therefore we recommend a 5-7 night hair regeneration vacation to Bangkok or Phuket.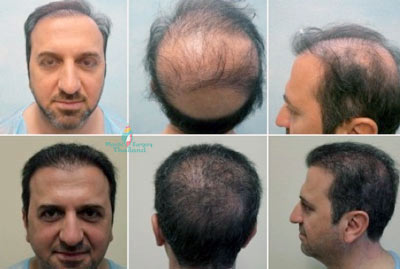 Hair Restoration Prices in Thailand
FUE and FUT Hair transplants prices will range depending on the total number of grafts needed with large discounts being made available those having 2000 grafts or more. To give you an idea, the starting cost per graft begins at about $1.92 dollars or about €1.75 Euros Per Graft using the strip technique. Such a small price to pay for the results you will achieve in the privacy and comforts of Amazing Thailand. To learn more about affordable hair restoration please contact us today.
"The Journey of a Thousand Miles Starts with a Single Step"