Length of Stay Required In Thailand
The length of stay will depend on what technique you choose (Surgical vs Non-Surgical) but we planning your plastic surgery vacation to for 5-10 nights in Bangkok Thailand. We will fully advise you to not sit directly on your new butt for atleast a few days after to eliminate any unneeded strain or stress to the recently operated area.
Butt Augmentation Before and After Pictures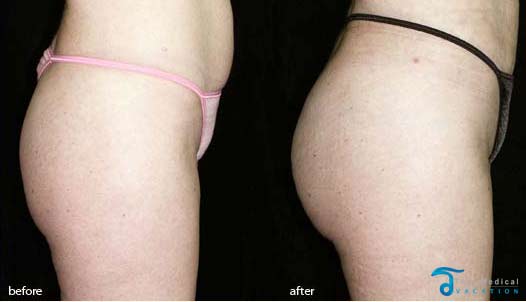 Prices and Packages for Butt Enhancement Surgery
The cost for your Butt Lift or Butt Reduction or Enlargement will generally start at $2900 or about €1950 Euros. The actual prices will really depend on what type of butt augmentation technique you choose. We can give you very accurate prices once our doctors can understand your specific needs via a short medical questionnaire along with pictures of the areas you want treated. (We offer big discounts for multiple areas!)
The cost we provide will include all your medical related expenses, including prices for the butt augmentation surgery,any  hospital stays,doctor fees,anesthesia fees, operating room and taxes (if any). The actual costs will not however include any costs for flights from Australia,United States or Europe,extra hotel stay post-treatment. If you would like an all inclusive package that included everything  including  hotels,airport transportation, and butt enhancement treatment costs while also saving an additional 40-65% on your Butt Augmentation surgery in Thailand please contact us today.
"The Journey of a Thousand Miles Starts with a Single Step"